Custom
FOSTER gives clients and retail stores the opportunity to create their own unique playing cards, cups, napkins, and more. Custom FOSTER projects are great ways to market your brand, company, town, and story from personal to corporate.
The Mother-Daughter Duo Who Dealt Their Cards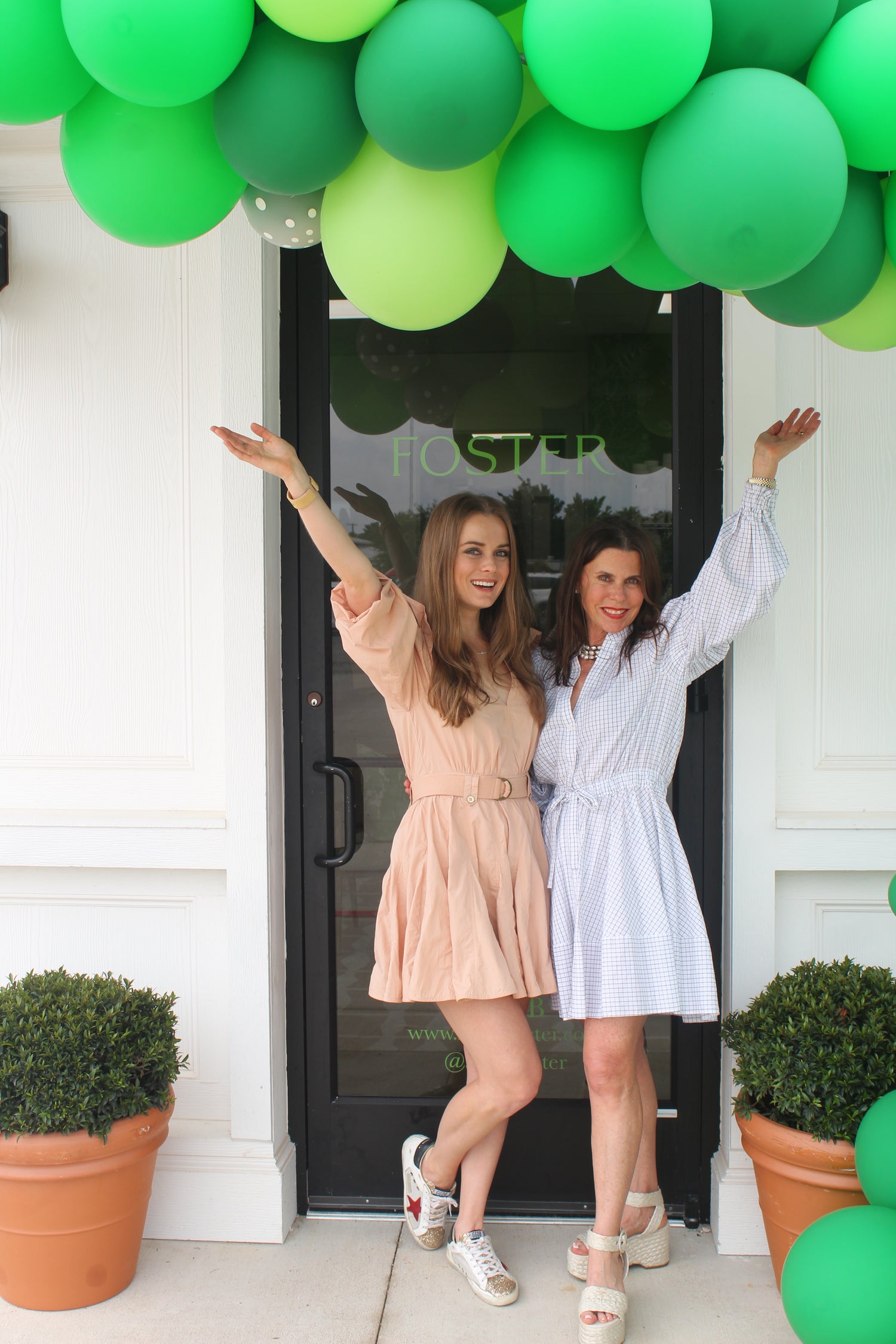 About Us
FOSTER was founded in June of 2020 by mother-daughter pair Kim Hackney and Frances Hackney.  Inspired to create small pieces of beautiful art with Texas-sized appeal, the mother daughter duo of Kim (mom) and Frances (daughter) Hackney helped foster, FOSTER.
Playing their hand in this business venture won them big, especially with their most popular products to date—playing cards displaying acrylic painting of various traditions, places, universities and events. Other products include napkin sets, reusable cup sets, place cards, gift tags, and more.
FOSTER is constantly releasing new collections of products; Collegiate, Texas, Summer, Christmas, and more in the works.
Seeing how FOSTER Collegiate products have appeared all across the nation, fostering memories has brought so much joy to the mother-daughter pair, as they know the value of Collegiate memories.
"It is quite a feeling to collaborate with fans, students and alumni in bringing 16 different images of artwork to life on a deck of cards," Kim expressed. "What's most important to us is that these pieces express the primary purpose of why we created FOSTER—to build those relationships, promote conversations and provide an outlet that allows others to share memories together."
Following the initial release of the Collegiate Collection, FOSTER launched a highly anticipated Texas Collection featuring all things the state is known for. It's these kinds of painted familiarities that are generating the cards' and coordinating products' appeal and what FOSTER's CFO, Stacy Evans attributes the brand's overall success to, especially with FOSTER's collegiate niche. "The product is unrivaled in the marketplace," she explained. "Customers simply love the tiny pieces of handheld art. More than that, though, they love the story of how this art really does foster friendships and relationships by simply bringing others together".
In their hometown of Tyler, Texas, local customers are also inspired by how well the custom decks have played out, so much so that local companies and groups have commissioned their own for clubs, events and fundraisers.
With a keen eye on the future, Kim and Frances are just keeping the ball rolling with every piece they create and whoever's' hands their custom pieces end up in. They are so excited to have already seen an evolution from the time they started, until now. Today, love seeing how their products have truly changed small moments in people's lives for the better.
For Kim, building this company and working with her daughter is more than she could have ever envisioned. "I count it as a blessing...although Frances's college career was finished up at home (during COVID), she is my partner in a successfully growing business nationally known—and thriving. It's a divine gift that she is using her education, learning life experiences and putting them to work. Fostering relationships with people all over has really made the long hours worthwhile!"
As a wholesale and online retail company, we love sharing our brand with our retail stores and FOSTER community, it such a perk of running our business.
Browse our art and join us in fostering memories.
FOSTER Headquarters and Flagship
2443 Mosaic Way Suite B
Tyler, Texas 75701
903.266.9128.
customerservice@solelyfoster.com